Fantasy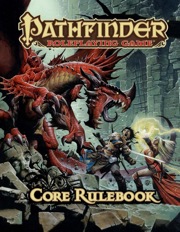 Wow! Perhaps the best RPG rules set available -- and free? The Open Gaming License is a model of what civilization is all about. I applaud you guys.
I've used other gaming systems, most notably The Fantasy Trip by Steve Jackson and Runequest by Chaosium. (I own the Avalon Hill version, but never play it.) I tend to be a rules lite kind of GM. I stand up when I'm running the game and I roll dice all the time. If the roll looks good you succeed. If it's not good, you fail. Pretty autocratic, I know, but it's a game, fer cripes sake! Keep it moving.
A few years back I bought a big d20 somewhere and it's become my go-to decider. I let the players argue with th result and tell me what skills they have to affect those middle ground rolls, but my instinct is to keep the story moving and don't get bogged down in the details. Of course some players and GM's like that stuff, and I play in a Hackmaster group that just loves to roll d1000's to determine the location and details of every blow. Just depends what flavor suits you.